Data of FAB reveals female security awareness lag behind male in the digital society
Key findings:
• Female concerns on data privacy online but their knowledge of privacy protection lay behind male.
• Female has more trust and willingness to use FAB from the referral.
• Young educated males have high sense of technology and skill of protecting their privacy.
To mark this year's International Women's Day, we'd like to share some of our interesting user data, through which we hope to encourage and enhance women's security awareness in the digital society.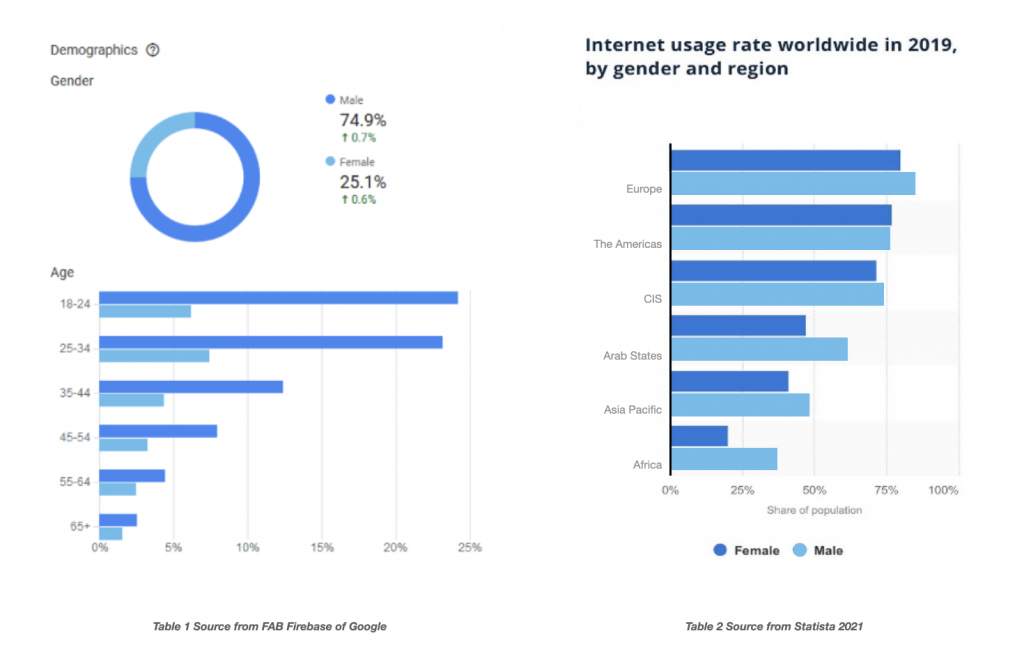 Our demographics data (Table 1) clearly shows the significant gender gap of our FAB browser users. The current male users are nearly three times than the female users. The gap is ever larger among the young users between 18–34. However, according to Statista (See Table 2), the global internet usage by gender and region, particularly from the developed countries, the gender distribution is rather evenly with minor percentage difference.
We've been noticed the user gender gap in the very beginning when we access to Firebase 5 years ago. Regretfully, the data has remains almost the same comparing to the demographics data 5 years ago. This phenomenon draws our attention on the female cyber security awareness issue. We hence conduct the market research through user interview, online survey, and also consulted some academic scholars who have been involved in the cyber security field, aiming to give our potential female users a glance of how importance of the data privacy in the cyber world. More importantly, how to catch up the capability and learn the skill of overcome the tech obstacles.
According to Maor Weinberger et al., ("Sex differences in attitudes towards online privacy and anonymity among Israeli students with different technical backgrounds", Information Research, Vol.22 no. 4, December, 2017), female's sense of anonymity is far lower than the male students. This also applies to our interview samples result.
During our interview, when we ask how much do you understand adblock browser, one Japanese young girl replied "ever heard about the product but never use it", and "Yes, ads is annoying and bothering me, but it's still within my tolerance". We continue to ask if she knows the differences between ads and malware ads. The interviewee's response is quite blunt: The former maybe good, the later is bad. We appreciate the interviewee's honest very much. She's right on the point that Ads are not always bad. While the same question received a much profound feedback when we asked an US interview participant, who demonstrates an excellent knowledge of adblock technology and products, moreover, he seems to completely aware of the data privacy and implemented the various protection both on PC and the mobile devices.
Advertisements are presented in written or visual content dedicated to promoting a product, service, brand or campaign. Good Ads can inspire people and arouse people to pursue a better quality of life. However, malware ads are designed often by the software developers to display and generate revenue. They are intrusive with various forms like banner ads, pop ups, and video ads that interrupt you when you are surfing online. Malware is not only annoying, but also dangerous. Because they may collect your data, violate your privacy, tracking you online from one site to another. Our young female interviewee apparently has little interest in understanding this. Needless to say she has intention to explore other features of the adblock browser, such as incognito model and the no cookies tracking support. This also is in line with Park's (Digital literacy and privacy behavior online, Communication Research, 40 (2), 215–236) study "female has limited technological knowledge to protect their data privacy online than male does".
Back to our topic, we appreciate scholars' study and research in the field of user behavior. As our demographics data precisely shows the high relevance of the digital literacy and security awareness online. We hope scientist could publish more academic studies in this area, anthropologist and the psychologist can explain from the perspective of the social implication phenomena and the psychological meaning. As a tech company, we will undertake our responsibility, to continue working on improving our product features, fulfill our mission, make FAB a faster, safer and trustable product for our users. It goes without saying that we hope in future there are more female will adopt our product, and the gender gap of FAB users getting closer and closer.