What has 2017 brought us: a short FAB report
2017 has passed, and it's been a tremendous year for Free Adblocker Browser. We have now over 8 million downloads from Google Play, our app gets positive reviews and our rating reached 4.4 stars. What else 2017 has brought us? Keep reading and you'll find out 😊
1. You asked us to add DuckDuckGo to the list of search engines. Now, you can set DuckDuckgo as a default search engine and be sure that your search history is protected. Besides GuckDuckGo, you can also use Google, Bing or Yandex to do your searches.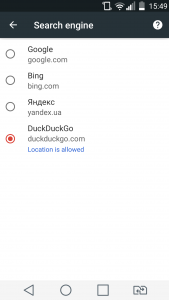 2. Our app was translated into 13 languages. Now, except English Free Adblocker Browser is available in Arabic, Dutch, English, French, German, Indonesian, Italian, Japanese, Korean, Polish, Portuguese, Russian, Spanish, and Turkish. 
If your language is not on the list and you are willing to help with translations, we'll be glad to hear from you 😊
3. We greatly improved blocking ads and increased the speed of app launch. We also enhanced a menu toolbar for a tab version of FAB.
4. We added a counter to the adblock menu, and now you can see how many ads have been blocked, and how much data you've saved.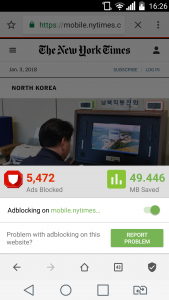 5. As you might know, what differs us from lots of browsers is a bottom toolbar. For those of you who got used to a more traditional browser design, we made it possible to switch to a top toolbar. Although we still think that bottom toolbar is super comfortable to use 😊
6. Sometimes we need a desktop view of a page. Last year, we made it available for FAB users.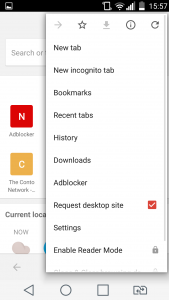 7. 2017 was extremely active in terms of adding new features for the users of FAB advanced mode. After analyzing users' requests, we introduced a range of premium features, such as:
Playing videos and audio in the background. You can continue listening to music, keep videos in the background while continue browsing.

Reading mode. You can now optimize pages for reading, remove all the funny backgrounds and distracting elements. You can also adjust size and style of the fonts.
Protecting your data with a pin code. You can keep your secrets by setting a pin code to enter the browser.
Auto-updating adblock filter lists. You don't need to worry and manually update the filter lists. This feature updates filter lists for ads, trackers, virus, and malware automatically.
Removing all the ads within the application. To support the project, we might run some ads within the app. This premium feature will remove those.
8. Almost before the New Year, we updated Chromium core to v.60. This means that your browsing experience got even faster and safer with FAB.
These were some points that you as users might have noticed. Of course, there was much more to it, lots of UI improvements, and bug fixes. We believe 2018 will be even more exciting to all our existing and new users.